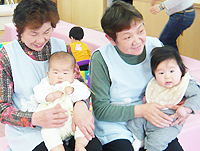 This British Council funded project has enabled collaboration between researchers and professionals in the UK and Japan. A key impact of this study has been that public health nurses in Japan have worked on a research project in partnership with academics for the first time. This has enabled them to develop research skills and also to make a major contribution to the research process, thus bringing an authentic service and policy orientation to the study. Researchers and professionals in both Japan and the UK have developed skills and knowledge in cultural understanding and awareness of the context of parenting support in both countries and the different approaches to research that are necessary when working in different cultures. In particular, an understanding of qualitative methods in different cultures, the nuances of language and the requirement to appreciate what gets 'lost in translation' have been critical to reaching our mutual goals in this project.
Both institutions have benefited from engaging with international research, sharing ideas and good practice. Cultural understanding has been a key component of this project that has been reflected at a strategic level.
A key success story from this project has been an enhanced understanding between our two countries of public health and social care services, how these are related to national and global policy and the impact of support on parents. We are particularly pleased that the Mayor of Uchinada has authorised the continuation of community based parenting support in this district beyond the end of the project.  The project has enabled us to develop a collaboration, teamwork and friendship that will be sustained well beyond the end of the project.
The study has enabled us to develop links with community health and social care agencies in both countries, with other Higher Education Institutions including the Tokyo Medical University who will be extending some of this research in Tokyo, and with other EU countries such as Germany through our dissemination (Observatory for the Development of Social Services in Europe, Institute for Social Work and Social Education).
A number of papers for publication are in progress.
Conference Abstracts:
Poster presentation at the 4th ICCHNR international symposium, University of Alberta, Canada, May 2011.
The effects of group based community support for parents in Japan and the UK. Family Nursing conference, Kyoto, June 2011.
Evaluating parenting education: current instruments and future prospects, Promoting parental skills in Europe, oral presentation, Berlin, February 2010
The effect of group based parenting support on parental stress and outcomes for children in the UK and Japan. Poster presentation, PMI2 Going Global conference, London, March 2010
The effect of group based parenting support on parental stress and outcomes for children in the UK and Japan. Oral presentation of final results. Annual CPHVA conference, Harrogate, England, October 2010
A comparative study of the effect of group based parenting support on parental stress and outcomes for children, Oral presentation. Fourth International Conference on Community Health Nursing research, Health in Transition, Adelaide, Australia, August 2009
Effect of parenting support program 123Magic applied to Japanese families, Poster presentation. First International Nursing Research Conference of World Academy of Nursing Science, Kobe, Japan, September 2009.